Reflective Probationary Plate Decal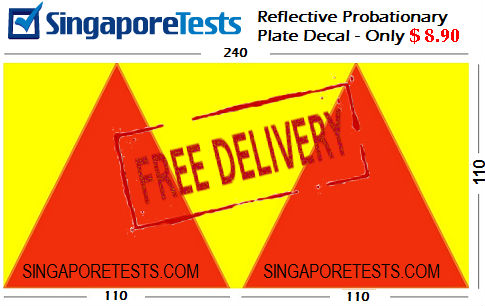 SingaporeTests.com is pleased and honoured to be selling a uniquely self-designed product - Reflective Probationary Plate Decal
This decal is a good quality water resistant decal which is suitable for both cars and motorcycles. Unlike the conventional P Plate made by 3M which is hard and brittle, this decal allows you to display the Probationary Plate on a curved surface.
Made of high quality reflective material, the decal will reflect light at night. For car owners, you may choose to display it from inside the car by using a double-sided tape, or paste it on the external side of the windscreens.
Save now by buying a P Plate decal now at only $8.90 for pair, instead of a 3M one which cost about twice as much!
How to Buy?
Send a
PayNow
payment to Company UEN: T12LL1126KMAS
Amount: $8.90 for 1 pair, $15 for 2 pairs
Reference Number: Your Contact Number
After sending, email
[email protected]
with the proof of payment and your full postal address :)